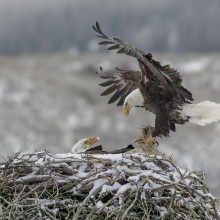 January 13, 2022
Our new study is out on #baldeagle populations and the impact of lead poisoning on their long-term growth rate - showing a negative impact of 4-6%!! See the @cornellchronicle article Bald eagle rebound stunted by poisoning from lead ammunition. https://bit.ly/31X1Hsb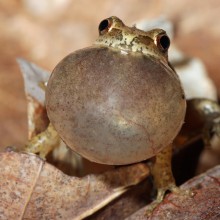 March 05, 2021
I don't know about you, but I can HARDLY wait to hear #spring peepers start calling later this month! Pseudacris crucifer, the spring peeper, is just as much a herald of spring as the #redbreastedrobin. Let's get peeping!
What we do
Disease Surveillance
On the frontlines of identifying pathogens and toxins in New York wildlife
Research
Everything from salamanders to moose
Wildlife Diagnostics
Testing services through the Animal Health Diagnostic Center
Education & Outreach
Developing resources for professionals and the public
New York State Wildlife Health Program
We protect the health of New York State's wildlife through our partnership with the New York State Department of Environmental Conservation.